Alan Ibell
An Angel, Then!
May 25 - June 29, 2019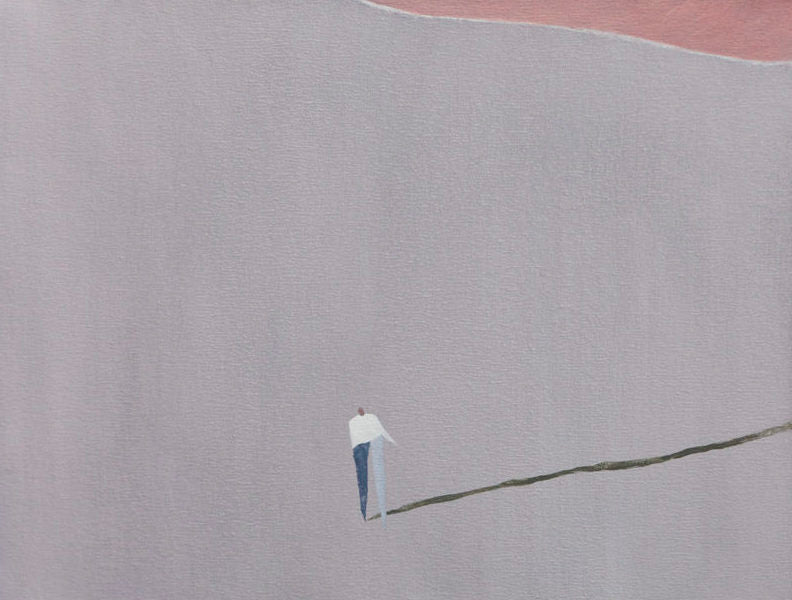 Alan Ibell's practice is underpinned by an interest in the uncanny and the absurd. This new body of work interrogates our constant search for self-fulfillment and the expectation that we place on external forces to produce our transcendental experiences.
The show's title references a short story by Franz Kafka in which the narrator prepares himself for a mystical experience – a visitation from an angel. However, what finally manifests is not a living angel but a painted wooden figurehead. After accepting that he will not have the transcendental experience he was preparing for, the narrator makes practical use of the event by using the wooden figurehead as a candleholder.
The absurdity of this parable echoes through Ibell's paintings. They depict isolated figures, perhaps on a quest for transcendence, traversing an uncanny landscape that seems to be outside of both time and place. Like the protagonist of Kafka's story, however, their search may prove futile. For instance, in Travelling Stranger (Night Apparition) we witness a solitary figure within a vast landscape who is confronted by an 'apparition', which may or may not resolve itself into a form. This constant deferral of recognition is a hallmark of Ibell's work, in which both figures and viewers are made to confront the uncertainty of perception.
Please join us to celebrate the opening on Saturday, May 25, from 11am to 1pm at 306 Eastbourne Street East, Hastings. For further information or images please email info@parlourprojects.com.