Billie Culy
Gild
April 26 - May 20, 2017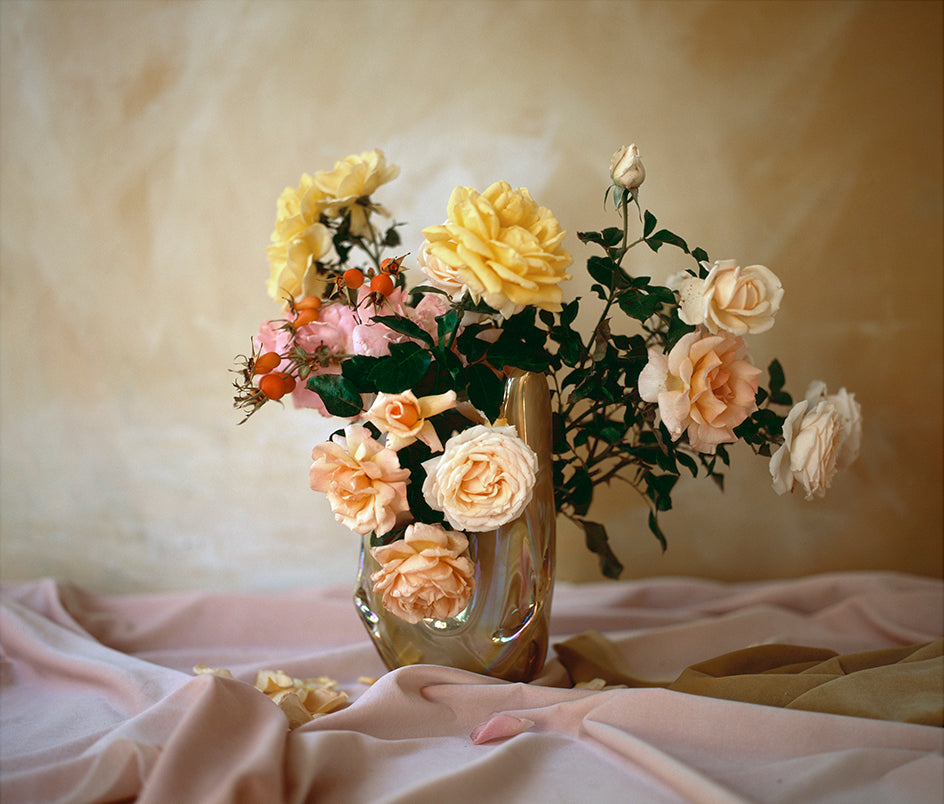 An exhibition of new work by Billie Culy examines traditional still life painting and attempts to reconfigure its treatment of colours and textures into the medium of photography.
The images are both records of time spent in suburban and costal communities, as well as carefully composed explorations of pigment, light and surface texture. Possessing qualities reminiscent of faded still life paintings, Gild continues the artist's exploration of memory and nostalgia.
The arrangements are assembled through the camera's view finder, and the frame becomes the canvas. Through the artist's process, the photographs become a record of a multiplicity of mini-events. Things as disparate as weather, seasonal shifts, pollination and chance encounters are bought together in a momentary assemblage of plants that archive a set of conditions. The arrangements are a gentle wrestle with material, balance, gravity and time.
"The music in the mind of the architect is frozen into stone; the emotion in the heart of the poet, remembered in Wordsworth's tranquillity, is set down in words which may, but – probably will not – outlive the gilded monuments of princes. Against such creations we may write stet, knowing that they are the best of which their makers were capable, and have been signed and sealed to await the verdict of posterity. But the art of the flower arranger must always have something of the quality of improvisation. Only a few hours after he has set his flowers into place, and given his blessings to the leaves that twine around them, the pattern starts to change. Subtly but inevitable, the design degenerates. The stem of the wild rose that has raised its petals to the mirror, in gesture of such exquisite abandon, begins, ever so faintly, to flag, like the arm of a model who has held a pose too long." — The Art Of Flower Arrangement' 1967
The public is invited to attend an opening reception for Gild on Wednesday, April 26, from 5.30 to 7pm at 306 Eastbourne Street East, Hastings.