Séraphine Pick, Emily Hartley-Skudder, Grace Wright, Yukari Kaihori and Christina Pataialii
Infinite Planes
July 3 - July 26, 2019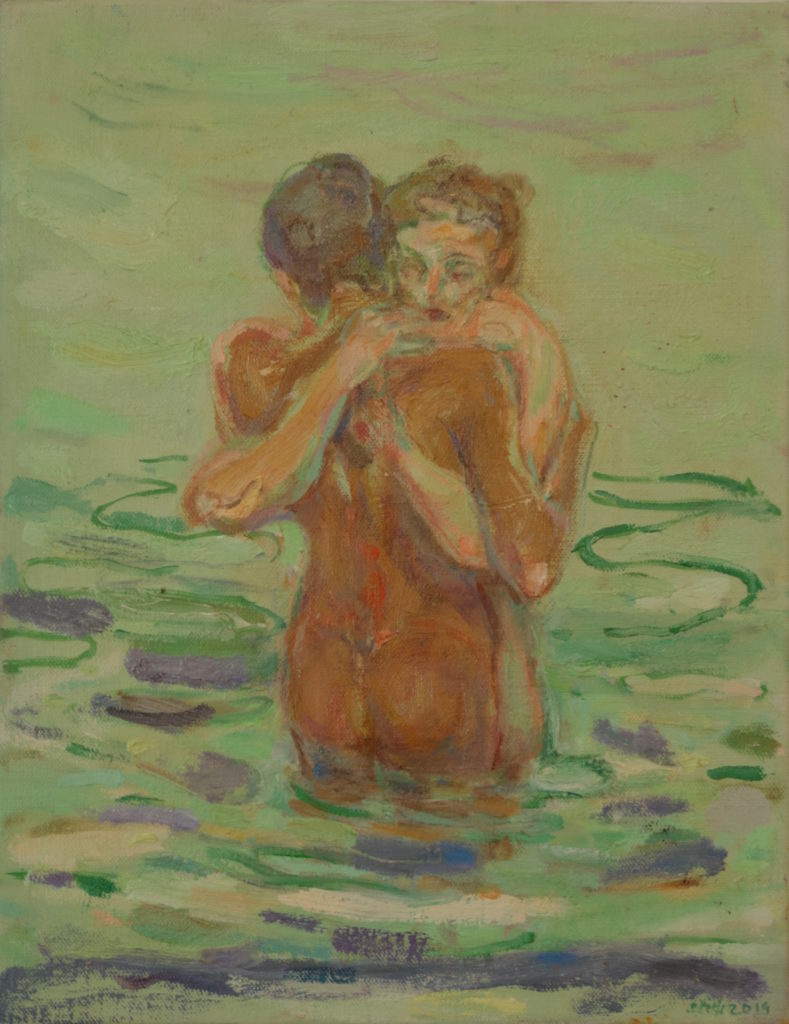 There's no question that women are having their moment, but to say this is long overdue would be an understatement. However, tired of biases and unequal representation, it is women themselves who are taking it in their own hands to seize what is rightfully theirs: recognition. Not only this, but, sick of narrow and privileged viewpoints, women, understandably, want to represent their views of the world. And it is this that unifies the five outstanding women artists within Infinite Planes at Parlour Projects.
These artists, Séraphine Pick, Emily Hartley-Skudder, Grace Wright, Yukari Kaihori and Christina Pataialii, utilise their exemplary skills and the medium of oil paint (alongside other materials) to depict their narratives and share their stories. Amalgamating colours, styles and cultures across the picture space, each of these artists depict alternative realities entirely unique and wholly unmatched by any other.
Séraphine Pick has long been revered in the arts, her mysterious and beguiling canvases enthralling audiences and consistently leaving them wanting more. In particular, her masterful application of paint and depiction of unique, otherworldy landscapes and environs have separated her from the rest. It is perhaps her ability to make the fantastical tangible, to draw the strange into the present and to take apart what it means to be human that brings us back as an audience, time and time again.
Straddling the border of still-life painting, installation and ready-made art, Emily Hartley-Skudder's work deftly fuses media and plays with trompe-l'œil (a trick of the eye). The result is surprising and challenging for the viewer: her work is never static and never obtuse. It is a design within a design. In Shy Rose Next Door, Hartley-Skudder hints at nostalgia, recalling a sense of place, of retro, of the yesteryear: it is the shared bathroom of our childhood, the vanity cabinet of our great aunt's ensuite, or perhaps the wash basin of our primary school bathroom. Wherever it takes you, Hartley-Skudder's work does its job in transporting you away from the immediate present.
Grace Wright gives us delicious canvases. They are filled with elongated colours: layers upon layers of captivating and colourful twisted forms, stretched out into mystifying oblivion. As you follow each snake-like shape you are cleverly pulled into altered, ecstasy-like states, into places of heightened, unquantifiable unconsciousness. Through her rhythmic gestures, Wright awakens our spirituality and pulls us to a place you can't quite put your finger on, somewhere not exactly tangible, but somewhere entirely beguiling all the same.
Interested in the medium of paint itself, which is immediately apparent in her works, Yukari Kaihori primes the surface of her paper in a way that floats the oil or watercolour paint, showing off the materiality and beautiful depth of her pigments' colours. Using Nihonga, a traditional Japanese technique, she mounts the paper onto a panel to further the depth of the painted surface. Her colours pierce, bloom and spread across the picture plane, bringing to mind a flower's petal and hanging with the same gravitas. The colours float in gravity and also between the subconscious and the conscious, between chance and controlled actions, between intent and accident.
A sense of mobility can also be found in Christina Pataialii's works, both in style and in theme. Her at times unsettling colours mark the canvas in streaks and dabs and hint at abstracted motifs from her upbringing: of items or ideas related to specific landscapes and cultures. The colours shift and swipe with diverse energy that's loaded but also balanced and poised: each section of Pataialii's works are perfectly composed, no streak or dab out of place.
And so we behold the power of females: the energy, the diversity, the unruliness, the infinite; and what a celebration it is.
– Jessica Douglas