Ben Pearce
La Jetée
August 14 - September 14, 2019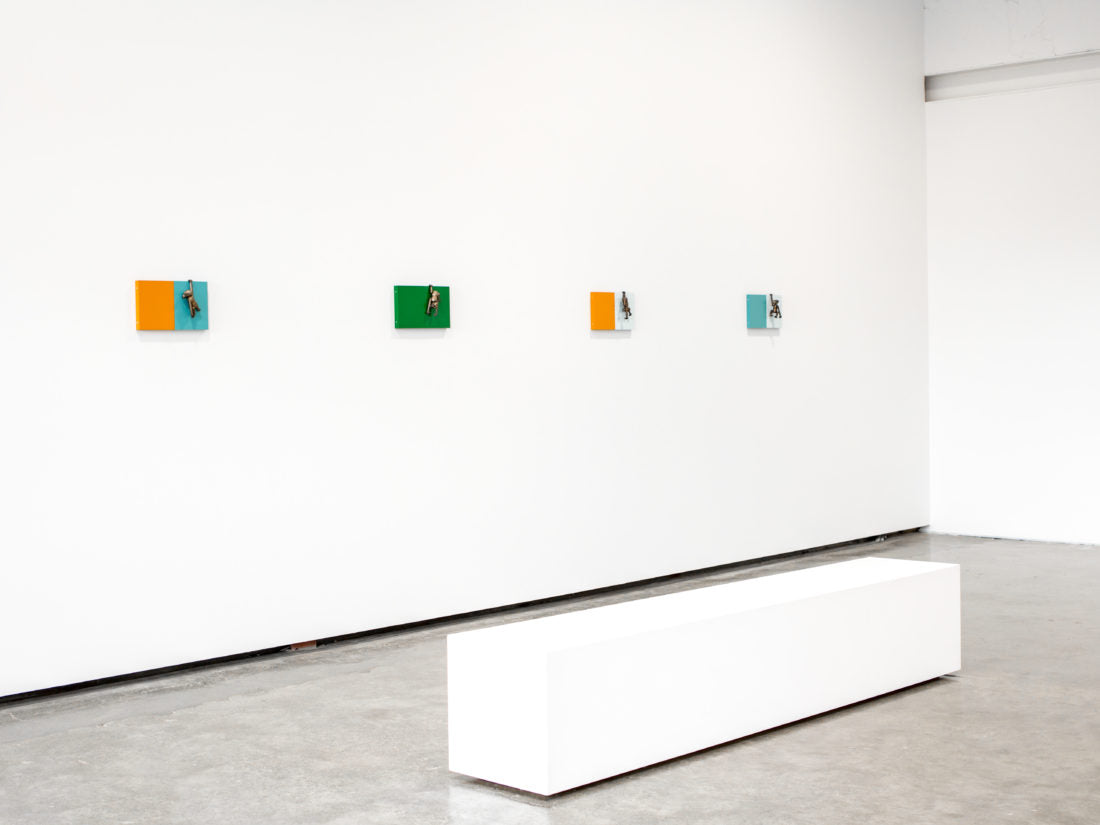 Parlour Projects is pleased to present an exhibition of new work by Ben Pearce, La Jetée. On view from August 14 through September 14, La Jetée presents a series of bronze monkeys suspended on the gallery's main viewing wall.
La Jetée is a 1962 French science fiction feature by Chris Marker. Constructed almost entirely from still photos, and shot in black and white, the 28 minute film tells the story of a post-nuclear war experiment in time travel. La Jetée is often heralded as the most influential science fiction film of all time, inspiring other films including Terminator (1984, James Cameron) and Twelve Monkeys (1995, Terry Gilliam).
Drawing inspiration from La Jetée, Pearce continues his investigation into post-apocalyptic concepts, dystopian/utopian futures, simulations, design/craft and memory through his sculptural works. Here, the protagonist is a bronze monkey moulded off a wooden toy found by the artist. The stylised figure is based on a design by Kay Bojesen (Denmark), but is likely a copy or imitation. Pearce's shiny primates hang like robotic multiples threatening to come to life. The material quality of the cast bronze bears the wood grain of the original, acting as miniature monuments to childhood or frozen memories. The stainless steel components reflect viewers back onto themselves. Interesting formal arrangements unfold as each monkey finds its own resting position.
The monkey is often found in contemporary culture as an embodiment of our humanness; a point at which we evolved, a distant relative. The work of Lisa Roet prompts us to consider what makes us human by confronting us with oversized fragments of monkeys and apes – giant heads, beckoning fingers and clasped hands. Ronnie Van Hout has often depicted the monkey in self-portraiture, as has sculptor Ricky Swallow.
Please join us for the opening on Wednesday, August 14, from 5 to 6.30pm. Please email info@parlourprojects.com to request an image catalogue.