Shane Cotton
New Heads
September 25 - October 28, 2017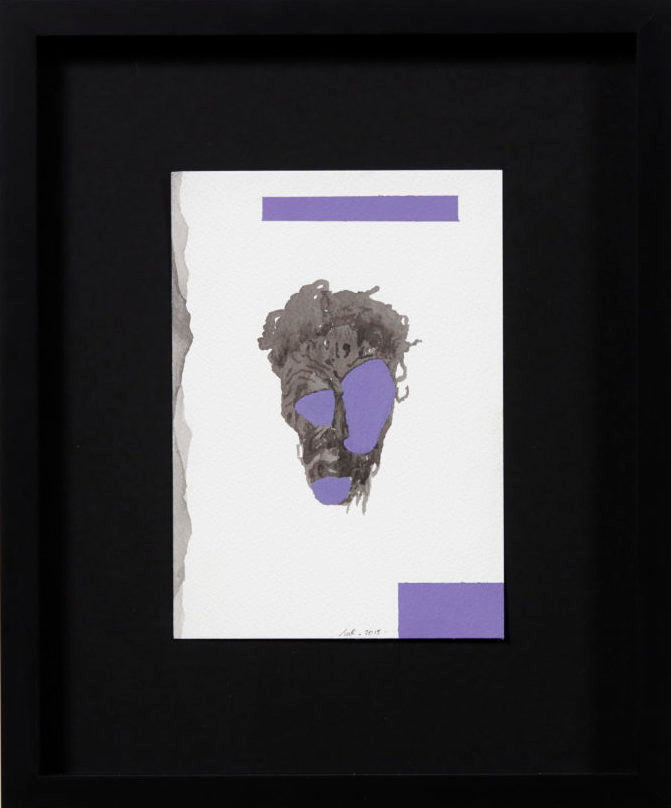 Parlour Projects is honoured to present Shane Cotton: New Heads, the artist's first solo exhibition with the gallery. On view from September 25 to October 28, the exhibition marks the first time this new series has been on display in New Zealand. A new essay by Anthony Byrt, Strange Matter, will accompany the exhibition.
This recent body of work—comprising small and large-scale paintings, works on paper, and a site-specific wall painting—highlights Cotton's continued engagement with Toi Moko, preserved Maori heads, which were traded in the first part of the nineteenth century and ended up in museum collections around the world. "And in his latest work", Anthony Byrt writes, "Cotton is very deliberately inviting us to see his heads as black holes: infinite, dark voids at the hearts of his paintings. Most of them leak scrambled information – confusing lines and pathways evocative of warped moko patterns."
Cotton's large recognisable silhouette heads float in white space, appearing weightless, with the exception of a major canvas work marked with his iconic skyscape background, connecting this new work with The Hanging Sky, an earlier seminal series. As Byrt notes, "Because the head/holes seem to bend and hold these information fragments, the white spaces between them becomes charged with structural energy, just like the dark matter that exists between celestial bodies. This can also be read as a reference to the structural importance of negative space in Maori pattern-making and design, and to the Maori belief in the complementary generative capabilities of Te Ao (the light) and Te Po (the darkness)."
With specific reference points, including words such as 'Outsiders, 'Bones' and 'Flat', as well as indecipherable channels and fragments that twist and pull, Cotton's investigations of line, colour and form touch on both history and spirituality. Together, the works in New Heads confirm the artist's place as one of our country's most accomplished painters.
Please join us in conversation with Shane Cotton at 11am on Saturday, October 14 at 306 Eastbourne Street East, Hastings. For more information and images, please email sophie@parlourprojects.com.