Ed Bats
The Woburn Wormhole
January 31–February 29, 2020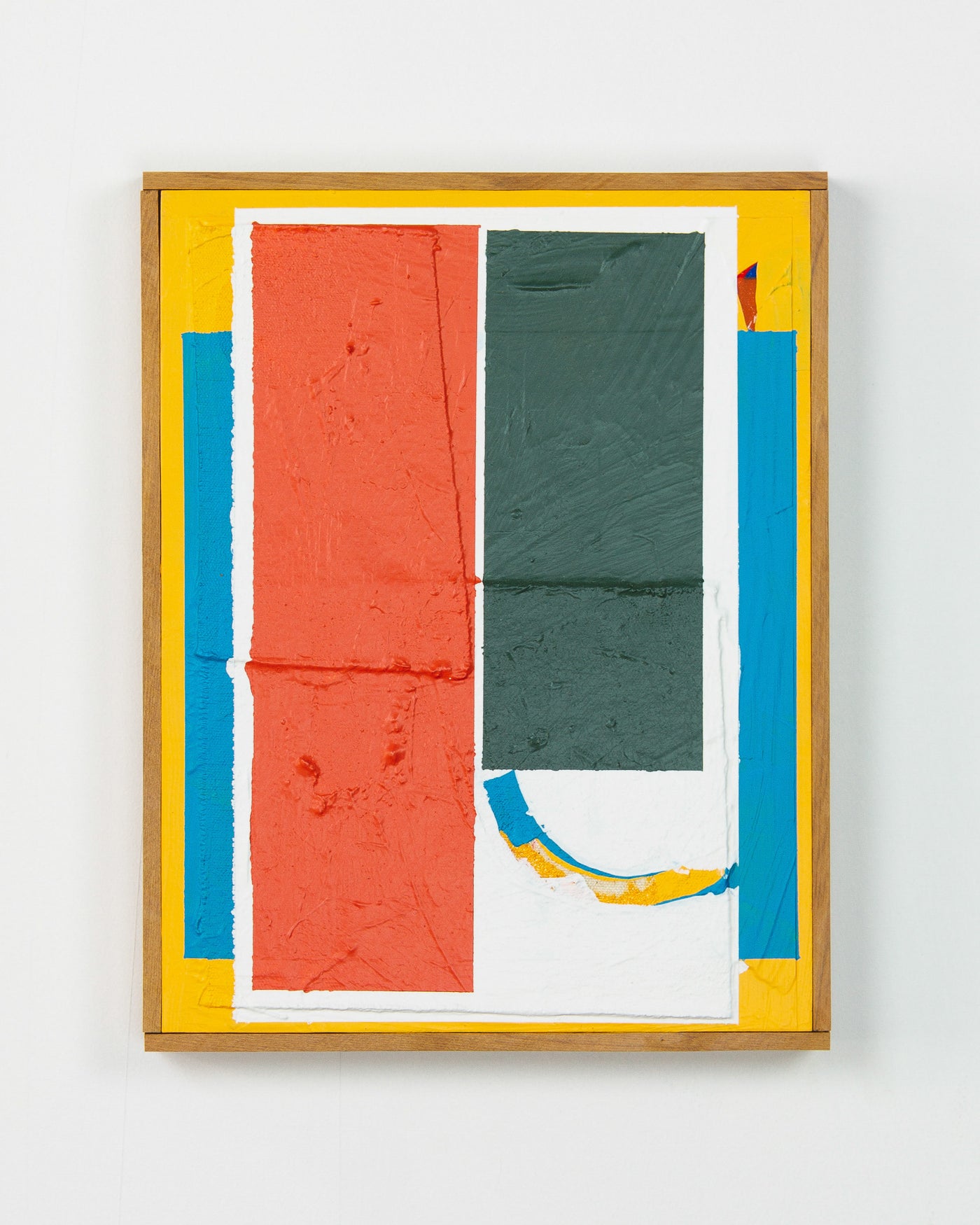 Parlour Projects is pleased to present its third solo exhibition by Wellington-based artist Ed Bats. Titled The Woburn Wormhole, the exhibition will be on view at 306 Eastbourne Street, Hastings, from January 31 to February 29, 2020. Featuring eight mixed media paintings, the exhibition presents recent works by the artist that continue his exploration into abstraction.
On the main viewing wall, visitors are greeted by four paintings that play with colour and form to create striking compositions. In The True Shrew and One For The Road, Bats employs framing techniques using found materials, prompting the viewer to consider where the edges of each work starts and ends. Bats' focus within his practice is heavily based around the concept of reviving found materials and objects and reinterpreting them using a minimalist aesthetic. On the opposite wall, a found blind has been painted and paired with canvas to create a compelling work that dances between painting, installation and sculpture. Of this new body of work that artist states – 
"These works were born from a period of chaos, embracing the unromantic side of the art/work life balance. This tension led to new paintings that have even more vigorous reworking than in the past. Gestural brush strokes coupled with geometric elements is where I found a calming balance in these works. There is a constant push and pull that occurs in all areas of my practice, and for this body of work I chose not to dwell on that thought. Less staring, more painting, was the approach."  
Ed Bats (1990) was born in Cape Town, South Africa. In 2012 he graduated with a Bachelor in Creative Technologies from Weltech (Wellington). He has exhibited nationally and internationally at Parlour Projects (Hawke's Bay, 2016, 2017, 2019), PlayStation (Wellington, 2019, 2018), Gallery9 (Sydney, 2016, 2017, 2019), and The Young (Wellington, 2013, 2014, 2015, 2016).
The public is invited to attend an opening reception on Friday, January 31, from 5 to 6.30pm. The artist will be present. For more information or to request an image catalogue please contact info@parlourprojects.com.
Thank you to our drinks partners, Craggy Range Wines and Daily Organics, for their generous support.