Grace Wright
Fantasia For A Late Night
March 14 – April 11, 2020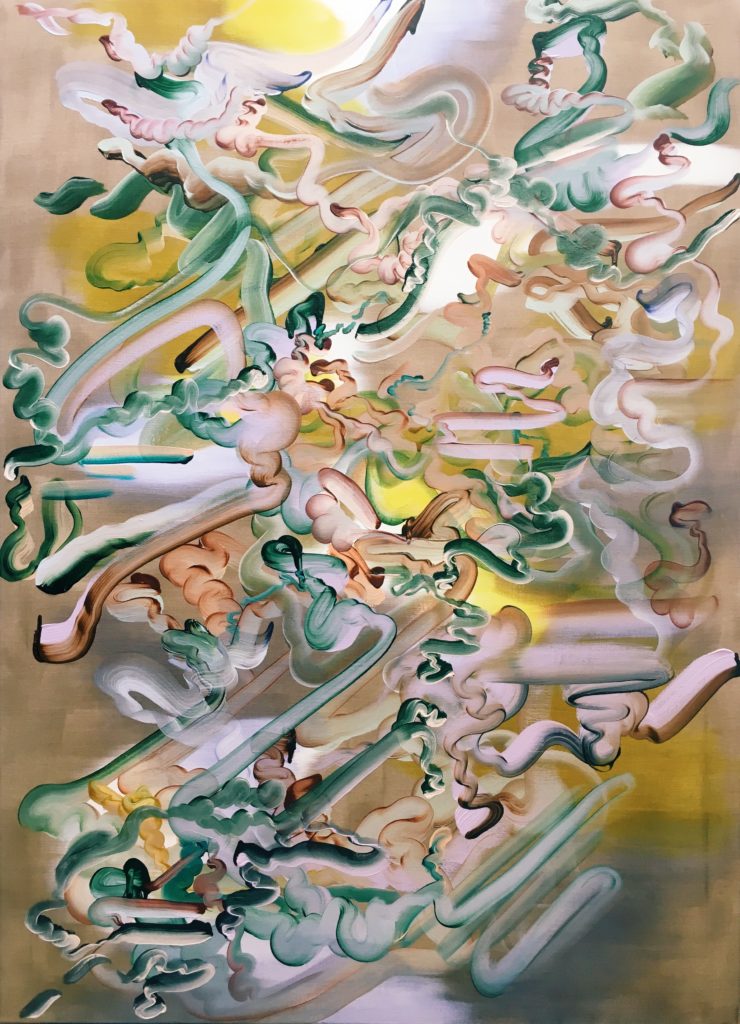 Parlour Projects is honoured to present an exhibition of new work by Auckland-based artist Grace Wright. Titled Fantasia For A Late Night, the exhibition will be on view from March 14 to April 11, 2020. Featuring seven large-scale paintings, as well as a monumental triptych, the exhibition presents recent works by Wright that explore themes of spirituality, female abstraction and painting as a tool for reclaiming the physically present moment. 
The baroque atmospheres created within Wright's works, combined with her use of dramatic chiaroscuro lighting, classical colours and towering scales, affirm her interest in 'monumental' and religious paintings. Her recent works are at once representational landscapes, upon which complex and dramatic scenery and narratives unfold, as they are abstracted worlds, containing sensual gestures and capturing a subconscious feeling or inward emotion. It is this tension between the internal and external, the tangible and intangible, that is so poignantly explored in this new body of work. 
Recently, Wright's practice has focussed on painting as a way into the always-present moment. Rather than constructing the picture plane through the layering of colour and gesture, she creates moments of heightened intensity within each work by tightly clustering and tangling the gestures together before they spin out into their own dimension, only to be pulled back again. The intense rhythm and energy of these paintings, combined with their scale, draws the viewer in and out in a pulsating beat. The hives of activity, contrasted with deep voids, creates fictional spaces within each work. On one hand, they depict a fleeting feeling or moment frozen in time, experienced but not yet articulated. On the other, they evoke alternate realities that appear more representational than abstract.
The exhibition title eludes to the idea of an alternate fantasy landscape; a dream world created through the artist's loose and free-flowing forms. "The classical yet youthful title rhymes the musical notion of fantasia, usually improvisational with a refusal to follow any strict musical form, with the experience of unstructured time," states Wright. "I am fascinated by our human experience of time. Sometimes, in the late hours of the night, time appears to unravel, almost as if we are floating in still time. Seemingly normal happenings in the light of day take on a distorted, irrational atmosphere. Without the sun as our instinctive marker of time, night can feel like our usual lives are far away. In these works I'm not only attempting to depict this dream-like parallel world where everything is dramatic and exaggerated, but also visualising the experience of a split second in time." 
Throughout her practice, Wright has also explored the perceived limitations of the female body, creating works of immense scale to prove that paintings can capture a sense of attraction and sexuality—qualities long associated with femininity—while also asserting strength and power, traditions often considered masculine. "Painting on a monumental scale is usually associated with masculine values, but I aim to subvert this, creating work that is bold and unapologetic, while also fully embracing of its vibrant feminine attraction and visual pleasure," notes Wright.
The public is invited to attend an opening on Saturday, March 14, from 11am to 1pm. The artist will be present. For more images or information, or to request an image catalogue, please contact info@parlourprojects.com.